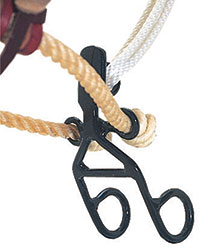 This "Easy Stop" Produces Great Results Without Getting into the Horse's Mouth
Easily improves your horse's stop
Watch the VIDEO to see how to use it.
Using this "Easy Stop" is a great way to teach your horse to really stop, without getting into his mouth.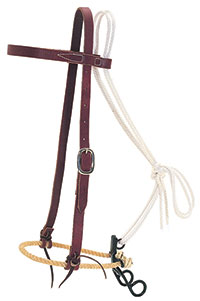 If you are training reining, cutting or working cow horses, the Easy Stop can
greatly improve your horse's performance.
When used correctly, this piece of training equipment will produce good results in a very short period of time.
Many horses will improve significantly within just a few rides.
Here's why this hand-made Easy Stop is the best available…
The "spoon" is oblong instead of round, which allows it to place pressure in the correct areas.
The "angle" of the shanks, in relation to the spoon, gives the correct amount of leverage, feel and release.
The "fiador" is attached to the "back" of the spoon so it doesn't
interfere with the way the spoon works.
The headstall is made of top quality harness leather that should
last at least 20 years. All you need to do is clean and oil it about once a year.
Note: Many top trainers use our "Headsetter"
in combination with the easy stop (see photo).
This Easy Stop includes the headstall & fiador
Watch the Easy Stop video to see how to use it.




Phone Orders Welcome
Training Tip
With the Easy Stop on your horse, say "whoa" and apply light pressure with the reins as a cue to stop. The instant the horse stops, release all pressure as his reward for responding. If you say "whoa" and the horse does not respond or doesn't respond well enough, correct him with several "bumps" with the Easy Stop. Example: Whoa… bump, bump, bump, release.
Some of the top trainers on the west coast, will use an "Easy Stop" underneath a snaffle bit. Ask lightly for the stop with the snaffle. If the horse doesn't respond with a good stop, give a couple of light bumps with the "Easy Stop" to correct him. Repeat this several times until the horse gets the idea. There are instructions on how to
use an easy stop in my video, "Teach Your Horse to Stop Light and Collected".