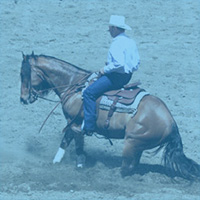 Teach Your Horse to Stop Light & Collected, volume 2
Follow these easy steps to train your horse
to slide stop like a reiner
Picture this. You're running your horse down the arena. You softly say "whoa" and lightly lift the reins. Your horse responds instantly, giving to your hand by dropping his nose and shooting his hind legs far underneath his body.
As your horse goes into the stop, his mouth, neck and shoulders stay soft and supple. His front legs remain relaxed as his hind legs lock, making long, deep, slide tracks in the dirt. That's what this video is all about.
This is the third "stopping" video in the Larry Trocha Training Series. The DVD picks up where "Teach Your Horse to Stop Light and Collected volume 1" left off. The first two "stopping" tapes focused on the all important foundation and intermediate techniques of teaching a horse to stop.
This third video expands, modifies and refines the training techniques introduced in the first two tapes. This tape is a "must have" for riders who are really serious about having a good stop on their horse.
Special Sidenote! It's best if you watch the first two stopping DVDs, "Foundation Training for the Stop and Back Up" and "Stop Light & Collected Volume 1" before you watch this DVD. Each of my "stopping" DVD builds on the next.
This Video is Divided into Four Sections.
Each section is Packed with Information.
Here's What You'll Learn…
Teaching Your Horse Good Head Position

. It's important that your horse learns to work with a low head. Nothing in the world feels better than to have a horse come back to your hands softly and lightly. This section of the video shows you several techniques to accomplish a beautiful head position. You will learn how to teach your horse to lower his poll as well as give his nose to your hands.

How to Make Your Horse Light and Responsive

. If a horse is going to be a top performance horse, it's imperative that he responds immediately to the riders cues. This section shows you how to teach your horse to stop hard with just a touch of the reins. And with some horses, just lifting the reins, not even touching their mouth. This isn't as hard to teach a horse as some people think. However, you must give the horse a specific sequence of cues. Follow this simple sequence and your horse will practically teach himself.

Schooling Your Horse for Long, Sliding Stops

. You are going to love this part of the video. I ride two horses
and school them as if I were preparing them for a reining. The first horse is pretty far along in his training but definitely has some problems. You'll see me schooling this horse to correct his bouncing stops, bad head position, and charging the run-down (speed
control). I start out schooling this horse with a snaffle and finish him up with a curb bit. You'll see big improvements take place right before your eyes.

Sidenote: Even though this horse was having some problems in the video, with a little more training he went on the win both the Open and Non Pro Reining Year-End Championships of the WCH Association.

The second horse is fairly green. He doesn't know how to slide and is not shod with sliding plates. However, you'll see this horse go from having almost no stop whatsoever, to doing long, sliding stops that are pretty and correct. I school this horse with just a snaffle. You won't believe the transformation this horse makes. (You will see how this is done in actual "real time". No "editing out" was done to this part of
the video, what you see is the way it really happened).

Sidenote: Shortly after this video was produced, I started training this horse for cutting. After a year of training, he and his owner started showing and ended up winning the Non Pro Year-End Championship Saddle for the Vintage Cutting Horse Association.

Training Horses that are Difficult to Stop

If you have a horse that's giving you trouble while learning to stop, this part of the video is really going to help you. I share with you some solutions that work extremely well. You'll learn special training techniques and see some special training equipment that can make a big difference in your horse's performance.
Note: Be sure you have watched "Volume 1" BEFORE you watch "Volume 2" or you won't understand some of the training concepts.
Running Time: Approx. 2 hour DVD.