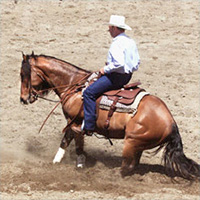 Teach Your Horse to Stop Light & Collected, volume 1
Follow these simple steps to train your horse to stop on his hindquarters, light & collected
Totally NEW and conceptually UNIQUE, this 3-HOUR, 2-DISC, DVD SET is devoted entirely to teaching your horse to stop well. (Collect, lope and back-up well too).
California cutting and reining trainer, Larry Trocha produced this DVD and it's the latest addition to his popular "stopping" series.
The information in this video is new and extremely detailed. More detailed than you have ever seen before. All the information you need to get good hindquarter stops is in this video. You'll see EXACTLY what to do and EXACTLY how to do it.
Every kind of stop is covered.
From strong, hocks buried in the dirt stops — to soft, collected stops that are smooth and balanced.
The training methods are demonstrated on horses that actually need the training. You'll see horses making all kinds of mistakes and what to do to correct those mistakes.
Here's a small sample of what you'll learn…
How to teach your horse to consistently perform good hindquarter stops.
How to easily teach your horse to lope slow on a loose rein. (Sure-fire results)
How to put a light, quick back-up on your horse. (With a low head-set too)
How to teach your horse to slide to a stop with good head position, form and style.
How to teach your horse the fundamentals of flexion, balance and collection.
How to teach your horse to respond to a feather-light touch of the reins.
How to teach your horse to stop well from leg or spur pressure.
How to fix horses that are hard, gap and open their mouth on the bit.
How to use a snaffle bit or a curb bit to teach your horse to collect-up and stop.
How to teach your horse to flex at the poll and lightly give to your hands.
A "special" technique that will have your horse stopping-on-a-dime within a few rides.
How to use your hands, legs and body to improve your horse's stops… immediately.
What to look for in good saddles, tack and equipment.
Analysis of both good and bad conformation (How it affects performance).
What to do if the training goes wrong. (Plan B)
Production values of this new DVD are very good. The picture and sound track are crystal clear.
2-disc DVD set.
Running time: 3-hours
Special limited-time offer: Only $69
Note: I strongly urge you to get volume 1 and volume 2 at the same time. Volume 1 contains valuable, "must have" information that will give you great results… but there is more to the story. You'll have a much better understanding of how to get your horse to lay down those big-time sliding stops (with correct form, style and head position) after watching both videos. Here is the link to "Stop Light & Collected Volume 2".
Success Story 1
Dear Larry,
The next day after watching your videos, I started applying your training methods. My colt and I had a major breakthrough…
We got a couple of really good stops!
Thanks.
— Rachelle Lightfoot, Monterey, CA
Success Story 2
Dear Larry,
Your unique style of teaching helped me understand how to stop my horse. Last years wins are proof the horse training techniques in your videos really work.
I won high-point year-end champion of the Western Cow Horse Assoc.
— Kathleen Gomes,
Cotati, CA