Spurs – Professionally Designed
50% DISCOUNT on every item on this page. Use coupon code: HALFOFF
Professionally Designed Spurs and Rowels
What I like about this particular style of spur, is they are shaped to fit on a boot correctly and are balanced to stay in position. The band of the spur is made of 1/8″ cold rolled steel. The spurs have a black finish which will oxidize and turn an antique brownish color. This is the type of spur most professional horse trainers wear.
NOTE: Click the "Add To Cart" button of the rowels you like. Your spurs will arrive with those rowels installed.
Ladies Spur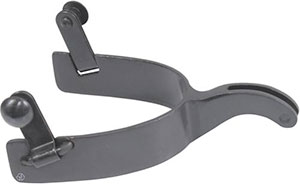 Shaped to fit most ladies sized boots.
Band Width: 1 1/8″
Shank Length: 2″
Price: $79
Below, select the style of rowel you would like installed in your spurs.
Spur Straps – Hand Tooled Basket Stamp
Sizes: SMALL: Men's boot size 8 1/2 and smaller – LARGE: Men's boot size 9 and up.
Select the size in the shopping cart.




Phone Orders Welcome