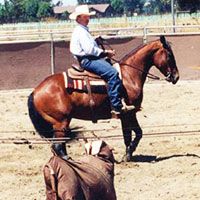 Cutting Horse Training Using the Mechanical Cow
Detailed instructions on how to use this valuable training tool
Sometimes, you just don't have access to good cattle for training your horse. And if you work bad cattle very often, you'll mess your horse up.
That's when a mechanical cow can save the day.
The mechanical cow can be a wonderful asset to your training program. It gives you complete control over the training session and can be set up almost anywhere.
This DVD shows you specific training techniques and step by step instructions on how to use the mechanical cow to train your horse to it's best advantage.
I should also point out, many of the training techniques demonstrated in this video, work just as well on "live" cattle… Maybe even better!
This Video Is Divided Into Four Sections. Each Section Is Literally Packed With Good Information!
Here's What You'll Learn…
How to set up the mechanical cow so it operates smooth and hassle-free.
Nothing is worse, when trying to school your horse, than the mechanical cow not working smoothly. In this part of the video I show you how to set up and adjust your cow so it runs without any hassles or unexpected problems.
On top of that, you'll learn at what height to place the cow, how fast to set the speed, and the easiest way to keep the cables tight. You'll also learn a great way to make your mechanical cow portable.
How to operate the cow so your horse understands what you want.
Here's where most people go wrong.
They operate the cow in a way that confuses the horse. This part of the video shows you how to move and stop the cow in ways the horse can understand.
The goal is to operate the mechanical cow in such a way that the horse associates it with working live cattle.
Do this right, and you'll be amazed at how much your horse will benefit.
Working green horses on the mechanical cow.
In this part of the video we get into specific training techniques.
Here's what you'll learn…
How to introduce your horse to the mechanical cow in a way that will build his confidence.
Training techniques that will develop more "cow" in your horse.
How to teach your colt to use his hocks when working cattle.
How to get your colt "better broke" using the mechanical cow.
Working advanced horses on the mechanical cow.
Here you'll learn how to correct and tune horses that are farther along…
How to teach your horse to rate the cow.
How to improve your horse's style and form.
How to teach your horse to synchronize with the cow.
How to practice a "good cut" using the mechanical cow.
How to teach your horse to hold the ground and use his body correctly.
This video shows you all this plus much more. You are going to love it.
Running time: Approx. 1 hour 30 minute DVD