Cow Work & Cutting Horse Videos That Teach Every Aspect Of Riding, Training & Showing A Cutting Horse!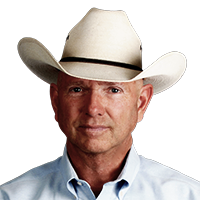 Hi – I'm Larry Trocha.
Although I've trained and shown reining and working cow horses in AQHA competition, my first love has always been cutting horses (NCHA & PCCHA).
I've won multiple aged events and year-end titles (so have my non-pros) but I enjoy training futurity horses the most.
I am happy to share this specialized knowledge with you through my online training videos and DVDs.

Cutting Horse Know How (online streaming video)
HOW TO RIDE, TRAIN & SHOW CUTTING HORSES. The most complete and in-depth cutting horse instruction available anywhere. If you want to learn to ride, train & show a cutting horse… plus fix problems… this program is for you. You'll also see how to work your horse on the mechanical cow (flag). An outstanding training course.

How to Start Your Horse on Cattle (DVD)
The secret to starting and developing a "cow smart" cow horse. This dvd is super detailed. Nothing is left out. If you want to get your horse started on cattle the right way, here's the blueprint.

Introduction To Cow Work (online streaming video)
INITIAL TRAINING ON CATTLE… PLUS THE MECHANICAL COW. A detailed guide for starting your horse on cattle… plus how to use the mechanical cow. If you plan on doing cutting, reined cow horse or ranch sorting, this video shows how to get your horse started right.

Cutting Horses, Cow Horses and Reining Horses for Sale
Success Story 1
Dear Larry,
I ordered "Starting Your Horse on Cattle" first and was so impressed I ordered the "Cutting Horse Training using the Mechanical Cow" video, joined the Inner Circle program and I'm still impressed. You are answering so many questions. I can't get enough! You are a great teacher and also a great horseman.
Thanks!
– J D Henley,
Stratford, TX
Success Story 2
Dear Larry,
My husband and I are so pleased with your cutting video! It is the best we have seen on the market yet. We love all the detailed information you give and yet keep in calm control of the horse and cow as you are teaching. A mark of a true professional. We have already ordered more videos from your site and plan to order more in the future. Thanks for making "real" professional training information available.
Sincerely,
– Jon and Pam Hunnicutt