How To Teach Your Horse To Lope Slow On A Loose Rein With Complete Control
Ride with confidence, knowing you can easily slow down, stop, turn, side-pass or get the correct lead at any time, in any situation. Makes any horse more responsive & safer to ride.
Note: The "Order Form" is at the bottom of this page
Imagine taking your horse out for an enjoyable ride.
You're sitting relaxed and comfortable in the saddle. The reins are hanging loose. After a short warm up at the walk and trot, you cluck to your horse and ask him to lope.
He calmly and quietly steps into a nice, slow lope on the correct lead. The kind of lope you see on a smooth, well-trained RANCH HORSE or REINING HORSE.
This kind of horse lopes slow, free and relaxed. His head and neck are carried low and natural and he does so on a loose rein.
He stops, turns and backs up with only a light touch of the reins. He responds to the rider's leg cues… side-passes, picks up the correct leads and changes direction calmly without a fuss.
You are able to ride this horse relaxed, without worry.
You're relaxed because you're CONFIDENT you can CONTROL the horse, slow him down, stop or turn him at any time… in any situation… without a fight or struggle.
If you want your horse to be exceptionally good, this is the training he must have!
Hi – I'm Larry Trocha. The trainer who created this series of videos.
Even if you believe you've seen and tried everything to get your horse well trained… and FAILED… don't be discouraged!
It's not your fault. You just haven't been taught the appropriate training methods to get the job done.
I assure you, the training methods you'll learn in this series of videos, will work for you and your horse. I guarantee you'll get good results.
If your horse takes off like a rocket, won't lightly stop or turn or puts his head in the air every time you handle the reins… these videos show how to fix it.
Even though the primary focus of this video series is loping slow with complete control… the training techniques you'll see here, will improve just about everything your horse does (or doesn't do).
It will drastically improve his stops!
It'll improve his turns, lead departures & flying lead changes.
It'll fix bad head position and greatly improve his willingness to please you.
Here's a small sample of what you'll learn:
How to teach your horse to stop with NO VISIBLE CUES.
How to teach your horse to WANT to go slow whenever you ask.
How to teach your horse to stop lightly the instant you ask.
How to teach your horse to pick up the correct lead.
The foundation for getting your horse more supple, soft and giving.
How to greatly reduce your horse's "resistance" response.
The #1 control factor of a horse's body (no, it's not his mouth).
How to teach your horse to give to pressure and come to your hands.
How to fix a horse that refuses to calmly walk, trot & lope on a loose rein.
What "good" hands are and what they are "not". (extremely important)
How to get your horse a lot lighter and more responsive.
A fool-proof way of improving your horse's turns.
How to teach your horse to give to your hands and flex at the poll.
How to teach your horse to respond to leg pressure and move his hindquarters.
How to teach your horse both lateral and vertical flexion.
How to control your horse's shoulders. (vital for good turns & suppleness).
What to do if the training doesn't go right.
This training course is comprised of videos you watch via the internet on your COMPUTER, TABLET or SMART PHONE.

It's a course which teaches MULTIPLE training techniques.

Training techniques that will fit a wide variety of horses and riders.

It doesn't matter if your horse is simply "green" or an old, confirmed run-a-way with a hard mouth and a ton of bad habits.

Doesn't matter what your level of horsemanship… novice or advanced… you'll have success (or at least vast improvement) with the training techniques you learn in this course!
Allows you to confidently ride your horse… knowing you're in complete control.
Have you ever ridden a horse that makes you nervous?
Maybe the horse you own right now?
My guess is, you're nervous because you know you can't control that horse. You can't control his speed, you can't control his direction and you can't easily stop him.
I'm also guessing, the son-of-a-gun probably got you hurt.
And now, your confidence is shaken.
Answer this question…
How confident would you feel driving a car that had a broken steering wheel… the brakes didn't work… and the accelerator sticks wide open?
You wouldn't feel very safe driving that car, would you?
The fact is… it's no different with a horse!
A horse must have good steering… excellent brakes and a smooth working accelerator.
If he doesn't… he's dangerous to ride… a wreck waiting to happen!
Certainly, you will NEVER become confident riding an un-trained horse like that.
Right now, with this training course, you have the perfect opportunity to learn how to fix that stuff. Fix it so you can get your confidence back.
After you finish watching these videos, you'll KNOW how to fix your horse's problems.
If your horse isn't controllable or safe to ride, you really only have 3 options.
#1. Take the time to learn how to fix the horse you currently own.
#2. Send your horse to a professional trainer and let him fix the horse.
#3. Buy a NEW horse who's already well-trained… and learn how to "maintain" his good training.
Here's the bottom line…
No matter which option you choose, you STILL need to learn the horse training techniques I demonstrate in this series of videos.
If you want a good, dependable horse, you really have no choice.
If you don't learn it, the horse you sent to the trainer, will eventually revert back to his old problems. If you don't know how to MAINTAIN his training, he'll simply lose it.
Same thing with any new horse you buy. If you don't know how to maintain his good training, he'll quickly degenerate into a poorly-trained horse.
Horses always advance or degenerate to the level of their rider. That's why it's so important for you to learn these training techniques.
Read the above two sentences again. Critical for you to understand.
This training course is for men and women who are ready to quit looking for "miracles" and start ensuring good results.
In short, there are no "push button" methods or "miracle cures" for teaching a horse to lope slow on a loose rein with complete control. When it comes to training horses, nothing is ever that easy.
It takes focus, consistency and a well laid-out plan of proven training techniques.
However, in this training course… I've made it as easy and fool-proof as humanly possible.
If you'll do what I show you in the videos… it's pretty hard to screw it up.
So, if you're wanting REAL ANSWERS to get the job done, you'll find them here.
Chris Maclean says:

Larry… After less than 2 weeks of working on this set of videos… I was amazed a what happened this past weekend.

The hot firey mare I have been barrel racing for 10 years, who, usually enters the arena hot, head up… fighting the bit until the run starts.

This weekend I was able to easily have her enter the arena at MY pace… collected.. head down… soft and off the bit.

Most people that know the horse well, could not believe what they saw…. I guess I was finally able to get the point across that when she gets excited…. relaxing is the answer… a valuable tool to put in my toolbox.

Thanks.

Chris, Nova Scotia Canada
Valuable Bonus Videos… How to fix mistakes 99% of riders make but aren't even aware of.
As a special bonus, I've included in this course, some very unique and valuable training videos.
Some of my members sent in a video of themselves schooling their horse. In the videos, they attempt to get the horses to STOP, SPIN, CHANGE LEADS and LOPE SLOW.
They asked for my help so I did a voice-over of the videos… and using "stop action" and "freeze frame", I pointed out all the mistakes and what needs to be done to fix them.
I explained EXACTLY how to improve their stops, spins, lead changes and loping speed. I believe you'll find the bonus videos contain some of the most valuable instruction you've ever seen.
Below is what one of my members had to say after watching the bonus videos.
Tammi Tognetti says:

This was awesome!!! It helps so much to see another rider make the same "mistakes" that I do (most of the time without even realizing I am doing it).

I had so many "aahh haa" moments watching this. Heading out to the arena now!!!

Thank you to the riders for submitting the videos. By doing so it will help so many of us.
Special "Limited Time" Offer.
If you personally went to a professional trainer and tried to get this kind of education on your own, it would cost you approximately $1800 in lessons and training fees.
Maybe a little more, depending on where you live. (and that's if you could even find a trainer who knows this information… let alone teach it!).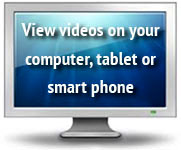 For a LIMITED TIME, this horse training course is being offered at a ridiculously low introductory price of only $77.
You get 21 videos which total 4-hours and 30-minutes of instruction.
Watch the videos as many times as you'd like for an entire year. You can watch on any COMPUTER, TABLET or SMART PHONE.
100% Satisfaction Guarantee!
I guarantee you'll find solutions for your horse in this online training course. If not, simply send me an email and I'll guide you to it.
If you're still not satisfied, let me know and I'll cancel your membership and give your money back.
Get started by placing your order below.
Don't worry… your credit card and personal information is safe as this page is totally secure. (See the "https" in the address bar above. That means the page encrypted and secure).
A few seconds after you submit your order, a "Registration Page" will appear on the screen. This is where you select your username and password. (Be sure not to skip this step).
Once you do that, you'll have IMMEDIATE ACCESS to the videos. Simply login and start watching. Okay, do it now and I'll see you in the "Members Area".
Lope Slow with Complete Control – Online Streaming Videos
21 videos, 4-hours and 30-minutes of instruction. Watch as many times as you want. 1-year membership: $77 (Option to renew at a big discount)
Important: Upon "CheckOut" be sure this is the ONLY product in the shopping cart

About horse trainer, Larry Trocha

Training horses professionally since 1980, Larry Trocha lives in Acampo, California where he trains and shows horses for the public.

Larry also offers instruction to riders who want to learn reining, cutting or reined cow horse.

Larry is a long-standing member of the NCHA (membership #518) and the AQHA (membership #1187036).

You can contact Larry via his website: www.HorseTrainingVideos.com

Larry Trocha Training Stable is located at the Sliding J Ranch, 40 min. south of Sacramento:
24846 N Tully Road
Acampo, CA 95220
Phone: 209-642-2804