Professional Quality Reins
Premium Harness Leather Reins 5/8″ wide with lots of body, balanced weight and feel.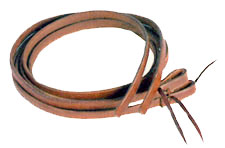 Professional Reins for Snaffle or Curb Bits 5/8″ wide. 7'8″ to 8′ long
These are the type of reins top trainers use … And no, they aren't the cheap, kind you find at a tack store. These are long, thick and shaped right. These reins have the body and the balanced weight to hang correctly from the bit to the rider's hand. They are also easy to break-in. Mine have lasted 15 years or more, even with heavy use.
Will darken with oil or sunlight.
SOLD OUT
Read how to break-in new reins and how to easily darken leather tack.