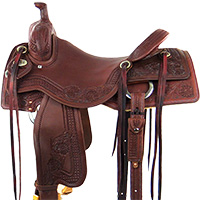 Do you realize how critical it is to ride a well-designed saddle?
Watch the videos below to find out!
---
If you expect to do well riding a reining, cutting or ranch versatility horse…
You absolutely MUST have a saddle designed to help you ride in balance and sit the big stop. Very few saddles do.
I usually do not "publicly" endose a specific brand of saddle or saddle maker. However, I'm happy to help you select a good saddle "privately".
Be aware though, you will not find the kind of saddle I recommend for less than $2,500. They simply do not exist. So unless you plan on spending at least that amount, you will have to settle for a saddle that isn't designed right.
And no, you won't find a bargain on a used one either. The kind of saddles I'm talking about sell used for only a few hundred dollars less than a new one.
You're better off getting the new one.
Below are a couple videos I recorded a few years ago which explain important characteristics you need to look for in a WELL-DESIGNED saddle.
Larry Trocha
HorseTrainingVideos.com
HorseTrainingTack.com