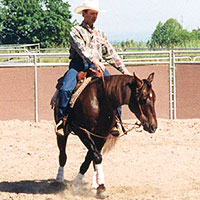 Teach Your Horse To Rollback And Spin
(2-Hour DVD)
A foolproof way to teach your horse to spin!
If you want to train your horse to spin… or greatly improve the spin your horse currently has… my DVD shows "exactly" what to do!
Hi – I'm Larry Trocha.
I specialize in training reining, cutting and reined cow horses. Plus, I teach my clients to do the same.
My "Rollback & Spin" DVD has taught thousands of people how to train their horse to do a good turn on the hocks and spin well.
Using this training, many of my students have gone on to win at their local reining shows. Some have even done well at the National and Futurity level.
We all want our horse to plant his inside pivot foot and bring his front-end around in a smooth, flat spin.
Unfortunately, when it comes to training a horse to spin, almost everybody experiences problems. Here's one of the biggest problems:
The horse plants his front-end and swings his butt out of gear… or he spins too slow and won't speed up… or he spins on the wrong pivot foot.
It's a universal problem!
However, in my DVD I offer proven solutions to fix it. The DVD is titled, "Teach Your Horse To Rollback & Spin".
Have you tried and tried to get your horse to spin correctly but just can't get him to do it?
If so, you shouldn't feel bad about it. It's really not your fault.
You simply haven't been shown the training methods you need to successfully get the job done.
My Rollback & Spin DVD will show you exactly what to do!
My DVD is different… it's way more detailed than other trainer's DVDs and offers multiple training methods to ensure you can get the job done.
This DVD will teach you things you've never experienced before. All you need to do is watch it and apply what you learn to your horse.
The BIG ADVANTAGE is you'll see actual training sessions with me riding horses that are making mistakes.
You'll see all the mistakes plus you'll see how to correct those mistakes.
Some of the horses being trained on this DVD are good-minded willing horses. And some of them are strong-willed uncooperative horses.
You'll see how to train each kind.
Here's a small sample of what you'll learn…
Three great methods to teach your horse to spin correctly. This means, no matter what kind of horse you have, one of these methods is going to work well.
Simple, easy methods to teach green colts to turn on their hocks.
What a "correct" rollback actually is and how to achieve it.
How to put more speed in your spins.
The three biggest mistakes people make when teaching their horse to spin. The vast majority of riders are guilty of all three. You MUST avoid these mistakes or you'll never have a good spin.
How to time-the-reins so your horse learns to cross-over in front and stay low on the ground.
How a small change in your riding posture could really improve your horse's spins (and I mean immediately).
The correct way to use your hands to get the front end coming around light and smooth. This is critical. Without it, you'll teach your horse to swing his butt out of gear.
How to teach your horse the proper form for a winning roll back.
The reason why some horses lock-up and refuse to roll back or spin.
A "special" way to wrap a horse's legs to prevent stressing tendons and ligaments during training.
How to use your legs and spurs to improve your horses spins and keep his rear end from swinging out.
A simple way to clarify what a spin actually is so your training stays on track. This simplifies the end result so you can get there step by step.
A great technique for improving a horse's head position (it works great for stops too).
100% Satisfaction Guarantee!
I guarantee you'll have great success with the training techniques demonstrated in this DVD.
They have worked great for thousands of horsemen and they'll work great for you too.
If not, simply send me an email and I'll guide you to a solution that will work for you and your horse.
If you're still not satisfied, simply let me know, return the DVD and I'll give your money back.
Horse Training Success Story!
Dear Larry,
I recently purchased your Rollback & Spin video. I must admit I was very skeptical.
I had tried everything to get my horse to sit and spin, but to no avail. In frustration, I was going to sell him. Then, I happened upon your website. I was more than impressed when I received your DVD and saw many of the same problems I was having, and a number of ways to fix them.
I had to watch the DVD 3 times, and even had to take notes. The next day I put your concepts to work. Using your methods, there was a huge improvement the very first day and my horse was actually spinning in less than two weeks!!!
Thank you,
Marty Lacey and Boss
Horse Training Success Story!
Clayton Eggers won the Limited Non Pro Championship at the National Reining Horse Assoc. Futurity. In his "Quarter Horse News" interview, Clayton said he learned to train his horse to spin by watching one DVD over and over again.
The DVD he talked about, is the one you're reading about right here on this page… Teach Your Horse To Rollback & Spin!