Does Your Saddle
Help
Or
Hinder
Your Ability To Ride Well?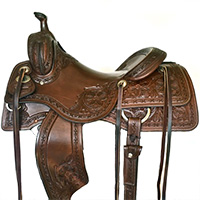 These are the saddles I currently recommend to my horse training clients and members.
They allow you to ride in balance and sit the big stop!
They're excellent for trail riding too!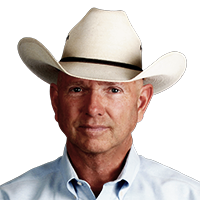 Hi, I'm Larry Trocha.
The reason I use the word "currently" in the above headline is because saddle shops change. A saddle shop which produces great saddles this month can lose it's best saddle maker and the following month produce saddles which are terrible.
A saddle shop or manufacturer which consistently produces good saddles that help you to ride in balance and sit the stop, is very difficult to find.
That's why I search out and try different saddle shops on a regular basis. I want to see who's making exceptionally good saddles and who falls short.
Constantly purchasing "TEST" saddles from different shops is an expensive process… but it's the only way to find out which saddles are the real deal.
Right now I have a shipment of saddles built by a saddle shop who is making the best saddles I've ridden in a long time. (they're gorgeous too)
These are high-quality saddles which allow you to "ride in balance" and "sit the stop".
Click the button below to check out the saddles.

Be aware, the low price on these saddles is not typical. It's a special deal for my clients, members and subscribers.
If you want one of these bargains, act fast while they are still available.
If you haven't seen the new saddle fitting videos yet, you can get them below:
Larry Trocha
HorseTrainingVideos.com