The News Magazine of the Performance Horse Industry
(Some of the excerpts reprinted here are from the Quarter Horse News
coverage of the December, 2006 NRHA Futurity)
17-Year-Old Kid Trained His Own Horse And WON
Limited Non-Pro Title.
17-year-old Stephenville, Texas cowboy Clayton Eggers headed to Oklahoma City and the National Reining Horse Association Futurity for the first time in his life.
Eggers, riding his young stallion, Hesa Smarty Pants, ended up winning the Limited Non-Pro title and $9,305.
The pair also finished tied for 5th place in the Intermediate Non-Pro ($4,722) and 20th in the overall Non-Pro ($2,168) for a total of $16,195 won at the Futurity.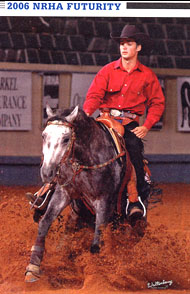 "It couldn't get any better," Eggers said after his first major reining victory.
"I don't know what to say.
To head up there on a self-trained horse, this is the best feeling I've ever had.
It's such a great feeling to come up here and win my first time."
In the Futurity Finals, Eggers' run had tied with Nadine Galbraith, riding her mare
named Gundelion. They had a work-off to decide who would be the champion.
"He gave me 100%," Eggers said of his horse, Hesa Smarty Pants.
"I was so proud of him… He was so tired but he came
back in for that second run and gave me all he had."
Eggers bought Hesa Smarty Pants as a green-broke 2-year old at the NCHA Super Stakes Sale held in Ft. Worth, Texas.
It was nearly love at first BITE!
"I noticed he was tied up real short and I went in the stall with him," Eggers recalled. "That's when he started biting and kicking at me."
Aggressive behavior was part of what Eggers liked about the horse he nicknamed "Twister".
"He had a bad attitude," Eggers said. "I could really be tough on him and he'd just keep going. I could ride him every day and he didn't care. He'd get mad but he didn't care."
Twister will remain a stallion. Eggers plans to use him as a breeding prospect, as well as continuing the horse's show career.
Clayton Eggers, the son of Mike and Laura Eggers, says his father taught him most of what he knows about training horses.
He said he learned most of the rest of what he needed to teach Hesa Smarty Pants from repeatedly watching Larry Trocha's reining horse training video…
"Teach Your Horse to Rollback & Spin".
"The tips from that video really worked," Eggers said.
–MT