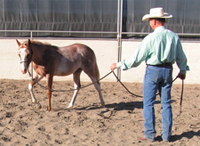 Training the Foal and Weanling
Halter breaking, ground manners, handling lessons, lung-line training and much more.
These training methods are great for yearlings and older horses too.
If you've ever wanted to know how top professionals get great results training foals and weanlings, this is the video you've been waiting for.
This 6-hour, 3-disc DVD set shows STEP-BY-STEP how to train your baby.
Produced by cutting and reining trainer, Larry Trocha, the information in this video is extremely detailed.
You'll see exactly how to train your baby with methods that are proven and safe.
Here's what you'll learn…
How to get your baby to accept and trust you.
How to catch your foal. (Even if he is initially afraid of you).
How to safely immobilize your foal for handling and doctoring.
How to halter break your foal and teach him to lead well.
The #1 MISTAKE that can RUIN your foal's chances of ever becoming a top cutting, reining or working cow horse. (Many foal owners make this mistake believing they are helping their baby).
How to establish respect and control. (Very important lesson for ANY horse to learn, young or old).
How to train your baby to circle in both directions on the lunge line.
How to correct BITING, KICKING and BAD MANNERS.
How to teach your foal to yield his front-end and hindquarters.
How to train your foal to go forward, stop and back-up.
How to teach your baby to accept fly spray, clippers and spooky objects.
How to teach your foal to willingly pick his feet up for cleaning and trimming.
The SAFEST method possible to teach your baby to STAND TIED.
You'll learn all this plus much, much more!
Special Introductory Offer…
Order Now & Save $40
Regular price for this 6-hour DVD set is $129.
Special introductory price… only $89.
That's a $40 DISCOUNT OFF the regular price.
Running time: 6 hours
3-disc set
Training the Foal and Weanling $89





The photo at the top of the page is a baby named Caterpillar. The video below, shows how he turned out as performance horse.
Foal Training Success Story!
Hi Larry,
I have recently received your "Training the Foal and Weanling" DVD set and have just finished watching all three discs.
You have definitely gone to great lengths to precisely show each step in detail and to make sure that WE clearly understand the importance of taking our time and doing it RIGHT.
I was also very impressed that you showed the small mistakes you made i.e when teaching the colt to let you pick up his feet, and the way you went about demonstrating how you had just taught him to do the wrong thing.
You know, most trainers would have edited any of their mistakes out but to do what you have done, enhances the teaching process as well as showing just how easy it is to teach the wrong thing to a young colt/filly.
I thank you very much for the effort you have gone to with this DVD set and was especially looking forward to the initial tying up of a young horse. I have always be very apprehensive of this stage of a horses training and found your demonstration had my complete attention.
Again, I thank you for your "to the point" training methods.
Denis Humphreys
Thanks a bunch.
Larry Trocha
HorseTrainingVideos.com