The Online Streaming Videos Contain WAY MORE Content At A LOWER Price Than The DVDs.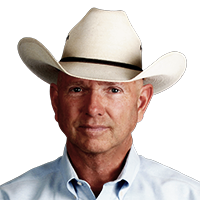 Hi, I'm Larry Trocha.
Training cutting, reining and working cow horses is my specialty.
If you'd like to know how to teach your horse to stop, spin, rollback, change leads, work cattle or correct bad behavior problems… you've come to the right place.
IMPORTANT NOTE #1:
In many of my videos, I show a variety of horses being trained… some good… some bad. Most are your "average" kind of horse.
However, some of the horses in the demonstrations are much more difficult than the average horse and require training techniques that are more demanding.
I did this on purpose so viewers would have a broad perspective of horse training… ranging from the good-minded, willing horse to the strong-willed, uncooperative horse.
IMPORTANT NOTE #2:
My videos are different than most. Why? Because they are very detailed and show, step by step, how to thoroughly train the horse. I show how the training techniques are actually applied in real life schooling sessions.
In other words, you'll see horses making mistakes and how to correct those mistakes.
My videos also teach the rider how to use his hands, legs and seat to achieve top performance. The instruction is very thorough, yet easy to understand.
WARNING

Activities involving horses can be extremely dangerous.

HorseTrainingVideos.com and Larry Trocha assume no responsibility for your safety or your horse's safety.

You are responsible for your own actions and the results of your actions.
We recommend "State Line Tack" for the best selection at the lowest price