Quixotes Kid
Gentle – Safe – Family Horse… Cutting Horse Gelding
Priced very, very reasonably

Click the "HQ" button on the player for a higher quality picture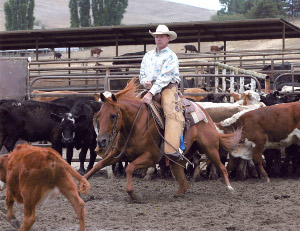 Quixotes Kid (his barn name is Ziggy) is a well trained gelding that would be a great family horse.
Ziggy is calm and quiet yet responsive. He's good in the arena or riding around the ranch.
He is safe enough for children to ride.
Even grandma can have an enjoyable ride on Ziggy.
As a show horse, Ziggy has won $9,378.16 in NCHA competition. Just three years ago, Ziggy was the year-end Open Champion of the VCHA.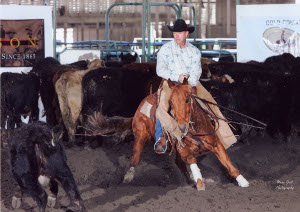 Ziggy was also one of my best clinic horses and carried riders of all skill levels… from rank beginners to advanced showmen.
Ziggy is in great shape and usably sound.
I'm currently using Ziggy as my turnback horse at the shows.
If you've been at the cuttings in northern California, you've seen me turning back on him.
Ziggy lives out in the pasture with 4 other geldings.
He is easy to catch. He'll either walk right up to the gate to be caught or just stand and let you put the halter on.
There are NO PROBLEMS with riding him away from his pasture buddies. He's happy to give you a nice, pleasant ride.
Ziggy is not barn sour, not herd bound, not a spooker or bolter. He doesn't pull back or rear. He's not cinchy. He doesn't act hyper or stupid.
You can even let Ziggy go for weeks out in the pasture without being ridden and when you are ready to ride, just saddle up and go.
He's a very easy horse to be around.
When I take Ziggy to a show, he'll sometimes be saddled all day.
I seldom need to tie him up. He's content to hang out at my horse trailer and nibble on some hay. Sometimes I'll just hobble him outside the show arena so he's easy to get to when I need him.
Ziggy hauls great, is a dream to shoe and anybody with a lick of sense can get along with him.
Ziggy is owned by my long-time client, Sibyl Day. Sibyl no longer rides so she has decided it's best to find Ziggy a new home.
Ziggy is a very good horse and Sibyl and I really want him to go to a person who will take good care of him.
He is very reasonably priced (to the right person)
Price: $7000
Quixotes Kid
AQHA Registration number: 3269121
Foaled: 2-28-94
Sire: Doc Quixote, by Doc Bar x Magnolia Gal
Dam: Docs Rush Rodder, by Doc's Hotrodder