Lil Mo Montana – 2006 Black Gelding For Sale. $20,000… SOLD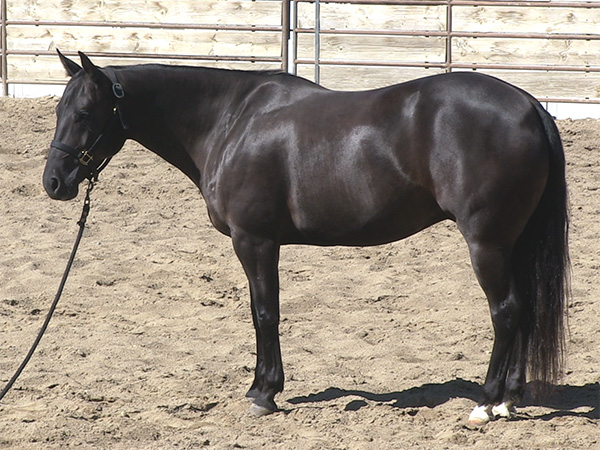 Lil Mo Montana (barn name is Blacky), is one of the nicest horses I've ever ridden.
He is extremely calm and quiet yet ready to work whenever you ask.
Blacky is an outstanding ranch versatility or all-around horse.
He'll stop, spin, do flying lead changes, work cattle and ranch cut out of a herd.
I've break-a-way roped on him and hauled him to cuttings as my turn-back horse.
Blacky will lope nice and slow on a loose rein, neck-reins well and is smooth gaited.
He's also been ridden a lot outside… He walks quiet and steady.
He loads, travels well, is easy to shoe and is a pleasure to be around.
He has NO bad habits or vices.
Blacky is approximately 14.3 hands tall and has very good conformation.
Sire: Lil Mo Magic by Remics Pep
Dam: Montanas O So Lena by Montanas Gay Bar
Blacky's new owner will absolutely love this good-looking black horse.
If you purchase Blacky via the phone, we are happy to board him until hauling arrangements can be made.
For best video quality, click the "gear" icon in the player and select 480p or 720p.