Building a new breaking pen, arena or barn? Read this first!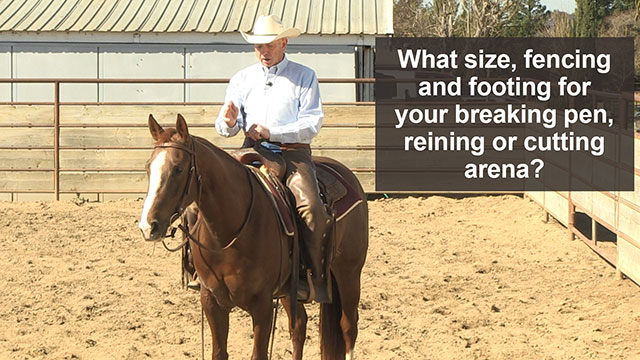 Dear Friend and Horseman,
I just received an email from one of my members who is in the process of building a new arena.
He was asking my advice about arena size, what type of footing, fencing etc. I think his questions are good ones, so I'll answer
them here in this article.
First, let me say that everyone has their own preferences.
The type of facility I like the best, may not be what somebody else likes. When it comes to arenas, there is no right or wrong.
I do my best job of training in a certain kind of arena. Another trainer may not get as good of results in that same arena.
So, when I give you my opinion on arenas, keep in mind that's all it is… my opinion.
Breaking Pen
My ideal breaking pen, is 50 foot square with 7 foot high fencing, with a 2 X 12 board running along the bottom and 6 inches of sand footing.
Oh yes, I can just hear you screaming… SQUARE!
Why not ROUND?
Why, because if you get into real trouble on a bad bronc, you can ride him into a corner and maybe save yourself.
In a round pen, once a horse starts running off or bucking, he'll just follow the fence line and keep on going. You are going to have to be a heck-of-a rider to stay aboard.
Corners are also good to help supple a horse's ribcage and teach him to stop and turn on his hocks.
Seven foot fences are good because a horse can't get his head over it. He won't try to jump out of the pen. I don't know how many times I've had to back-off of an uneducated colt because he threatened to jump out of the pen.
I hate for a colt to get away with something like that. It just reinforces his flight response. Also, with the fence that high, in an emergency, you can grab onto it and use it like an escape ladder to get off the back of a bad bronc.
The fence should NOT be a solid wall. I want the horse to be able to look out and see the world. I also want to be able to climb out if necessary.
Use planks or pipe set close enough together so the horse can't get his head through.
I like 6 inches of sand footing for two reasons.
#1. If I get bucked off, I've something soft to land on.
#2. It's deep enough to tire a colt out quickly. When a wild or rank horse runs out of air, he will start trying to figure out what the trainer wants.
Most people never think of this stuff because they have never had to start truly wild or rank horses within a short time frame.
Cutting Arena
My ideal cutting pen is 100 feet square, with 6 foot high fences and 4 inches of sand.
Again, I know you're freaking out that I prefer a square pen over a round pen.
I don't like a round pen because it encourages a cow to follow the fence line and run round and round. Running round and round with a cow doesn't teach a horse much.
I want the cow to stop, turn and give the horse something interesting to do.
In a square pen I can stay right with a cow, hold my line and have the corners encourage the cow to stop.
If the cow doesn't stop, I back off, let it travel around the corner and then work it on the next fence. Basically, I'm holding my line on whatever fence the cow will allow.
In a round pen, if I want to hold my line, the fence encourages the cow to go under a horse's neck.
To stop the cow, you might have to get way out ahead of her and that isn't a good thing to do on a young horse. It can shake his confidence.
Most cutting trainers, myself included, work with the herd standing in the middle of the arena.
They cut a cow out of the center and drive the cow to the fence. When the cow tries to get back the herd, in a round pen, you end up going in circles and that teaches some horses to fade off the cow too much.
In a square pen, it's easier to teach the horse to stay up to the cow and hold his line.
100 X 100 feet is big enough to do whatever you need to do with a cow. I'd say 120 X 120 is the largest I'd want to go. Anything larger than that and it takes too long to drive the cow to the fence. You end up spending all your training time driving.
Again, I want to spend most of my training time teaching a colt how to stop, turn around and rate a cow.
If by some chance you do decide to make your cutting pen round, I think 130 to 150 feet in diameter is about right.
Four inches of sand will give your cutter enough "cushion" for the hard stops without being too deep and causing strained tendons.
Reining Arena
If you plan on training big-time reiners, you'll need a big arena… at least 100 X 200 feet. Even bigger would be better.
Remember, you will need to teach the horses how to stop well in different types of ground. I'd want only 2 or 3 inches of sand on top of a smooth, packed base so my horse could learn to slide a long way.
Of course, I'd want to teach him how to stop well in deeper ground also.
I'd want 6 foot high fences so when I'm "fencing" my horse, he couldn't get his head over it.
To tell you the truth though, you might be able to do a better job of training a reining horse with no fences at all. Train him to lope circles and spin out in the pasture. Maybe have a patch of good stopping ground out there too.
You'll still need an arena to teach your horse to lope freely from fence to fence though (fencing).
Some reining trainers don't even use a fence around the perimeter of the arena. They will have a row of pipe panels set up at each end of the arena to teach the horse to lope freely up to the fence but the sides of the arena will be open.
I really like this kind of set up.
Arena Base and Type of Sand
No matter what type of arena you build, ideally it has a hard-packed base that is resistant to becoming soft or muddy. On top of the base, spread your sand evenly. The type of sand I like best is fine grained (sometimes called river bottom sand). Preferably buy the washed kind to minimize dust.
WARNING: If you rely on hired help to water and groom your arena, make sure he doesn't do these two bad things:
#1. Accidentally rip up your arena's hard base.
#2. Saturate the sand with water all the way to the base. Ideally, the sand is "dry" on the bottom. Only the "top" inch or so is wet. This makes for a nice loose cushion if your horse stops hard but the water on top will keep the dust down.
One more thing. Sand is expensive. Too expensive for some folks. If that's the case, just do the best you can to make the ground a good cushion. In the past, I've used the shavings that come from cleaning the stall and simply harrow it in with the arena dirt. The shavings make the dirt nice and fluffy.
Alternative Solutions
When I was young and just starting my horse training career, I didn't have the money or resources to have ideal facilities like I describe above.
Because of that, I was sometimes forced to make do with what I had. My first two years in business, all I had was a 70 foot square pen. All my horse trainer friends told me I couldn't get a competitive show horse trained in that small of an arena. I didn't listen to them.
Here's what was accomplished in that small arena… an AQHA Reserve World Champion cutting horse… a Futurity Finalist in TWO back-to-back futurities… a Snaffle Bit Futurity horse with only FOUR MONTHS OF TRAINING, missing the finals by only 1/2 point… etc, etc.
One facility I trained out of, only had a 100 X 200 arena. No small breaking pen for starting colts. No normal-sized cutting pen. No sliding ground for the reining horses I had in training.
As a result, ALL the colts I got in training, were started in that great big arena. All of them started fine with no wrecks or bad experiences. The cutting horses did well also… PCCHA Cutting Stakes Champion and finalist in 3 other major cutting events. In the reining, A Year-End Championship in the Open Reining division and two Year-End Champions in the non-pro division.
A good friend of mine, Norm Hudson was limited to a 40 X 20 foot pen (knee deep in mud) all winter long. He finished the year with a PCCHA Championship.
Another good friend, Art Grunig oftentimes found himself with no training facility at all. He would go to the fair grounds outdoor arena and train… in pouring rain… ice cold… miserable weather. Art would put on his rain coat and rubber boots and get to training. He won a ton of championships in tough competition.
What I'm trying to say is, "don't let a lack of ideal facilities stop you from getting done what needs to get done". "Figure out a way around it".
Barns and Stalls
Before I end this article, I want to say a few words about the way some people stable their horses.
Some horses are kept in dark stalls with no view for the horse to see out. The poor horse is forced to stand in solitary confinement with nothing to occupy his mind but four dark walls.
When I see this kind of mistreatment, I go absolutely nuts.
How would you like to live like that? Imagine living your life in a 12 foot square room with no window to the outside world. Imagine how depressed you'd get spending most of the day, every day, in a dark room.
It would be just like living in a solitary confinement prison.
I personally know people (including some well-known professional trainers) who stable their horses like this. They claim to love their horses. They claim to be horsemen.
Bullshit! No "real" horseman would treat a horse like this.
A simple window cut in the back wall of the stall would solve the problem. Unfortunately, these people are just too darn lazy (or cheap) to do anything about it. It really tees me off.
OK, I'm finished ranting and raving about this. I'll step down off my soap box for now.
By the way, if you feel this information is helpful, feel free to share it with your friends.
Until next time, have fun training your horse.


Larry Trocha
HorseTrainingVideos.com