Horse Training DVDs & Online Videos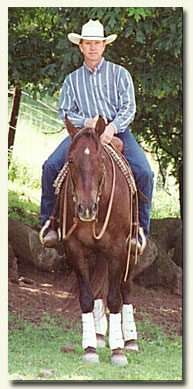 Larry Trocha DVDs
The most detailed and complete training information to be found anywhere. Most of Larry's videos focus on training a performance horse. Including colt starting, reining, cutting and working cow horses.
Watch Horse Training Videos Online
New & extremely popular horse training courses that you watch online. All NEW titles produced specifically to watch online. Instant access immediately after purchase.
Cutting Horse Training DVDs & Online Videos
The absolute best information on riding, training and showing cutting horses.
Horse Training Tack
Special tack and equipment recommended for getting the best results with your horse.
What I believe about you.
Hi… Larry Trocha here.
I believe you came to this website for a specific reason.
More than likely, you're looking for a solution to improve your horse's performance or improve your horse training skills.
Either, you want to fix a behavior problem (bucking, rearing, kicking etc) or you're looking to take your horse to a higher level of training (reining, cutting, cow horse etc).
No matter what your reason… I'm glad you found your way to my website.
My reason for being here.
I started my horse training business in 1980.
Competing in AQHA and NCHA competition, I've done well in reining, cow horse and cutting (year-end championships, aged-event championships, many time finalist, etc).
I've ridden some really good horses that were "born naturals" and an absolute joy to train.
And I've also had plenty of tough, "problem" horses that were a son-of-a-gun to get trained.
Because of that, I've been able to learn and develop a wide variety of training techniques.
My goal here is to share with you some of the things I've learned that get good results.
This is what troubles me.
It's not their fault… but people have so many misconceptions about horses and horse training, it isn't funny.
They have misconceptions about what's right and what's wrong… what works and what doesn't… what's reality and what's simply a fantasy.
They have misconceptions that can be dangerous for the horse owner.
Misconceptions that can make a horse's life MISERABLE.
Misconceptions that can lead to frustration and the feeling of failure.
Even a person who is honestly trying to learn, can end up with the wrong ideas.
He'll watch popular horse training programs on television or he'll study a trainer's DVD series.
Unfortunately, many horse trainers (and clinicians) don't tell people the whole truth.
For some reason, they feel it's necessary to present a less-than-accurate version of what a successful training program actually is.
Most are so afraid of offending somebody, they carefully choose touchy-feely, politically-correct language so as not to step on anybody's toes.
Their training demonstrations are done using horses that respond perfectly. They seldom show how to deal with "difficult" horses that make mistakes or don't cooperate.
As a result, the viewer comes away with a DISTORTED understanding.
It shouldn't be that way!
I believe people need to know the truth… they need to see training that works in the "real world" on "real horses".
What I have to offer.
I've produced an entire set of DVDs (plus training courses you view online) that I feel do a good job of showing how to train a horse.
Videos that show how to start colts or re-train older horses.
Videos for training cutting horses, reining horses, reined cow horses and more.
Each DVD goes into great detail.
I explain exactly what you need to do… step-by-step… in PLAIN ENGLISH.
The instructions are easy to understand, direct and to the point.
For the demonstrations, I did NOT use the best horses in the barn. I used horses that make MISTAKES.
I did that so you can see how to CORRECT the mistakes.
I should point out, the methods demonstrated in the videos are not the only way to train a horse but they're a very good way.
A way that has proven to work well for me, on a wide variety of horses.
By the way, in each DVD, I also cover extensive training for the RIDER.
No horse will perform well if the person on his back doesn't use their hands, legs and seat correctly.
What it'll do for you.
Bottom line, my training videos will help you get great results!
And if you have a half-way decent-minded horse, you'll get those results really fast.
Would you like to see an example?
Watch the video clip about stopping and backing a horse.
It's a good example of the kind of instruction you'll get in all my DVDs.
What I want you to do.
The FIRST thing is to subscribe to my Horse Training Tips Insider (did I mention it's free).
Why?
Because you'll receive top-notch training information within a few minutes of signing up.
Information that is so good, you'll wonder why I'm not charging for it. (I'm not exaggerating, just look at all the comments at the bottom of the Home Page)
If you're unsure if it's the right thing for you to do, then answer this simple question…
Do you want to improve your horsemanship and training skills or not?
If your answer is "NOT"… that's fine. But you may as well leave now because that's what this entire website is about.
If your answer is "YES"… then good. Join me and let's get started.
The SECOND thing you should do is take a look at my Horse Training DVDs and pick out the ones that best suit your needs.
I recommend you order one of the DVD "PACKAGES" as they offer the best value at a discounted price.
Good luck with training your horse.
Larry Trocha
Larry Trocha Training Stable
24846 N. Tully Road
Acampo, CA 95220
www.HorseTrainingVideos.com
www.HorseTrainingTack.com
Success Story!
I have to admit your videos have helped me tremendously. Before I purchased them I used to ask the "top hands" in my area how they put such a good handle on their colts. They usually couldn't tell me because they really didn't know how to explain their secrets. Now, after studying the Larry Trocha videos, some of the top hands are asking "me" how I'm doing it and giving me compliments about how well my horses are handling. Thanks Larry!
— Eddie Davis, Victoria, Texas