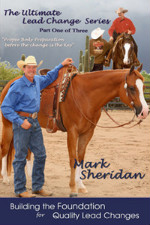 The Ultimate Lead Change Series
A 3-disc DVD set by trainer, Mark Sheridan
Step by step training to achieve smooth, controlled
lead changes for all riding disciplines.
Reining, western riding, western pleasure,
trail horse and more.
"THE ULTIMATE LEAD CHANGE SERIES"
It's a 4-hour, 3-disc set produced by top AQHA trainer and judge, Mark Sheridan.
And I gotta tell you, this DVD set actually IS the ultimate flying lead change instruction.
The main focus of the dvds is to teach you how to train your horse to do those beautiful, precisely controlled lead changes you see on top AQHA Western Riding horses.
The instruction is absolutely excellent.
This trainer explains, demonstrates and breaks down the entire training process step by step.
He uses young green horses, intermediate horses and finished show horses to give you the complete picture.
You'll see exactly what to do and when to do it.
I feel the information in this video is great for ANY horse that needs to learn flying lead changes.
Doesn't matter if you want to train a reining horse, western pleasure horse, cow horse, barrel horse or whatever.
The information found in these DVDs will definitely help.
My favorite thing about this video are the specific EXERCISES and WORK DRILLS the trainer shows you how to do.
The drills are real simple but very, very effective.
Do those drills correctly on a regular basis and your horse can't help but learn to do good flying lead changes.
Teaching your horse to do outstanding lead changes is the main topic of this video but it goes way beyond that.
In this series, you'll also see champion AQHA show horses, walking, trotting and loping the way a show horse is SUPPOSED to move.
I'll tell ya, it's a beautiful thing to see a top western pleasure horse doing a correct, clean 3-beat lope that looks natural.
It's even better to see one change leads so well you have to look real close to even see the change.
If you ever wanted to know what a "good moving" show horse looks like, there are plenty of examples in this video.
One thing I wanted to comment on, is the PRICE of this series.
To be honest, after watching all three dvds, I felt the price should be double what Mark is charging for it.
I'm not kidding, its that good.
Bottom line… I give the "Ultimate Lead Change Series" my highest recommendation.
Price: $99 (Sorry, we no longer carry this DVD)




Phone orders welcome
IMPORTANT NOTE:
In this DVD, trainer Mark Sheridan shows the equipment you'll need to do a good job with your horse. Most serious horse people will already have this tack.
However, if you don't, you can get it at www.HorseTrainingTack.com.
ALSO…
Be aware, Mark assumes you already know how to teach your horse to move his shoulders, ribcage and hips.
He also assumes, you know how to get a horse supple and responding to your hands and legs.
If you do NOT know how to do those things, watch MY lead change video FIRST.
You can get my dvd here:
"Teach Your Horse Flying Lead Changes" by Larry Trocha.
Take care,
Larry Trocha
Larry Trocha Training Stable