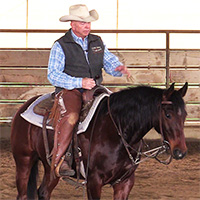 Important Tips For Training Your Horse & Five Big Mistakes To Avoid
If you're attempting to train your horse… and it's NOT going well, this video will help solve the problem and insure better results than you ever dreamed possible.
And the best part… I'm going to make it available to you FREE… Yes, 100% FREE!
This 30 minute online video, contains some of the most important horse training information you'll ever see. Put it into practice and you'll see IMMEDIATE improvement in your horse's performance.
Here's the deal.
I planned on charging for this video but for a limited time, I'm going to let my subscribers watch it for free.
What's the catch? Here it is:
YOU MUST AGREE TO TWO CONDITIONS
Condition #1. You must watch the video all the way to the end (trust me on this).
Condition #2. You must agree not to be offended and send me hate mail.
Why would you be offended?
Because in this video, it is my intention to shock you out of complacency and make you pay attention to aspects of your riding and training that are keeping you from getting outstanding results with your horse.
So be warned… I'm VERY CRITICAL in this video. If you have thin skin and can't handle blunt, constructive criticism, you definitely should NOT watch.
Horse Training Resources & Equipment Referenced In The Video
Click on the below links.
Snaffle Bit Training Package, horse training equipment package
German martingale, horse training aid
Snaffle bits & bit hobble, special training bits
Draw reins, horse training aid
"Western Riding Know How", horse training DVD
The Bitting Process, training tips article