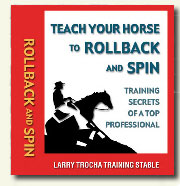 2-Hour DVD
by reining & cutting horse trainer,
Larry Trocha
SORRY, THIS SPECIAL OFFER HAS EXPIRED
Limited Time Special Offer
The Only Training DVD You'll Ever Need to Teach Your Horse to
Rollback & Spin
A full-length, two-hour DVD
ONLY $9.00!
Save $40 OFF the regular price
Order Now!
SORRY, THIS SPECIAL OFFER HAS EXPIRED
Congratulations. You are at the right place at the right time to get a great deal on one of my most popular training videos.
This Rollback & Spin training DVD is normally priced at $49 but you can get it right now for only $9.
The video will show you everything you need to know to teach your horse nice, correct spins and crisp, correct rollbacks.
Why am I selling this DVD so cheap?
Well, the reason is simple.
I feel the information in my DVDs will teach you more about horse training than any other videos you'll ever see.
This special offer gives you a great way to judge for yourself. If you learn as much as I think you will, you'll be back to buy more.
There is a ton of detailed information in this video. As a matter of fact, there is so much, you'll have to watch it several times just to absorb it all. But when you're done, you'll know EXACTLY how to teach your horse to rollback and spin.
Order this DVD now. You've got nothing to lose and a whole bunch of horse training knowledge to gain. Remember, this two-hour DVD normally sells for $49.
SORRY, THIS SPECIAL OFFER HAS EXPIRED
NOTE:
Horsemen who ordered the "Rollback & Spin" DVD
also ordered these DVDs:
Larry Trocha Video
Training Secrets of a Top Professional
Imagine your horse spinning smooth and rapid like a highly trained reining horse. Think how great it would be to have your horse bury its hocks in the dirt and rollback with just a light touch of the reins. If you want to teach your horse these maneuvers, this video will show you how.
This Video Shows You "Exactly" What You Need to Know To Teach Your Horse To Rollback And Spin!
Here's What You'll Learn…
Three great methods to teach your horse to spin correctly.
Simple, easy methods to teach green colts to turn on their hocks.
What a "correct" rollback actually is and how to achieve it.
How to put more speed in your spins.
The three biggest mistakes people make when teaching their horse to spin (most people are guilty of at least one).
How to time-the-reins so your horse learns to cross-over in front and stay low on the ground.
How a small change in your riding posture could really improve your horse's spins (and I mean immediately).
The correct way to use your hands to get the front end coming around light and smooth (this is critical information).
How to teach your horse the proper form for a winning roll back.
The reason why some horses lock-up and refuse to roll back or spin.
A "special" way to wrap a horse's legs to prevent stressing tendons and ligaments during training.
How to use your legs and spurs to improve your horses spins and keep his rear end from swinging out.
A simple way to clarify what a spin actually is so your training stays on track (this can really help a lot).
How to teach your horse to neck-rein properly (lightness with form).
A great technique for improving a horse's head position (it works great for stops too).
This Video Turned Out Even Better Than My Wildest Expectations!
Detailed Training Demonstrations: In this video I show you the most common problems people have when training their horse to roll back and spin. You get to see horses making mistakes and how to correct those mistakes. There are close ups of the horses legs in action so you can see exactly what is happening. And the camera comes in close on my hands so you can see how the reins are being worked.
Production Values: I spared no expense and hired the best production company in the area to shoot this video. It was money well spent. The picture is bright and sharp and the sound track is crystal clear. The camera work also turned out extremely well.
Two Full Hours of Information: There is so much great information here your brain will have to kick into overdrive to absorb it all. On this tape I don't talk
about conformation or shoeing. I get right to the nitty-gritty. You'll see training, training and more training. It's like watching the best, most intensive training clinic you'll ever see.
Two (2) hour DVD
Regular Price: $49.00
SORRY, THIS SPECIAL OFFER HAS EXPIRED
Horse Training Success Story!
Dear Larry,
I recently purchased your Rollback & Spin video. I must admit I was very skeptical.
I had tried everything to get my horse to sit and spin, but to no avail. In frustration, I was going to sell him. Then, I happened upon your web site. I was more than impressed when I received your video and saw many of the same problems I was having, and a number of ways to fix them.
I had to watch the tape 3 times, and even had to take notes. The next day I put your concepts to work. Using your methods, there was a huge improvement the very first day and my horse was actually spinning in less than two weeks!!!
Thank you
– Marty Lacey and Boss