Special Snaffle Bits for a Lighter, More Responsive Horse. Hand-made in the U.S.A.
The bits are arranged on this page with the mildest snaffles listed first. Read Larry Trocha's Horse Training Tips newsletter which details how and when to use the different types of snaffle bits.
Standard Sweet-Iron Snaffle Bit
This is the colt starting bit of choice. The 7/16″ sweet-iron mouthpiece is hand-made in the U.S.A. The O-ring and flange at the end of the bars is a NO-PINCH design.
For horses that are a little too heavy in the 7/16″ mouthpiece, I suggest the "thin, smooth-wire snaffle" mouthpiece. For best results, use occasionally with our German martingale.
Thin Smooth-Wire, O-Ring Snaffle Highly Recommended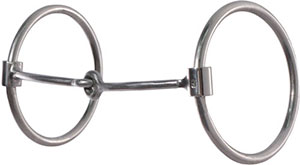 This is my favorite training bit. Great to use when your horse is too heavy in a standard snaffle. The thin, smooth-wire mouthpiece offers increased "sensitivity" without being abrasive. Used primarily for teaching better stops, collection and flexion. For best results, use occasionally with our German martingale.
Thin Twisted-Wire, O-Ring Snaffle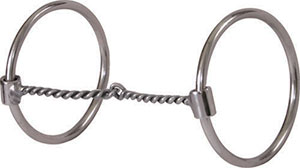 This is what to use when you're riding a heavy-mouthed horse that refuses to lighten up. The mouthpiece has enough "bite" to get the job done. The horse should be ridden with this bit for several days or until he gets light. Then, you should go back to a regular or thin smooth-wire snaffle.
For best results, use with our German martingale.
Leather Curb Strap Or Snaffle Bit Hobble

This leather curb strap is 1/2″ wide and will work as a "curb strap" on a curb bit or as a "bit hobble" on a ring snaffle. It's attached to the ring snaffle the same way you would attach a curb strap. It's important to have it on your snaffle bit as it will prevent the bit from pulling through the horse's mouth if you need to pull hard laterally.
Note: Be sure you are using the right type of reins & headstalls with these snaffles.