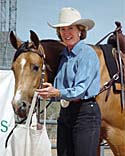 "More Magic with Sandy Collier"
Part 2
More excellent training fixes
Sandy Collier's first video, "Sandy's Bag of Magic Tricks" is awesome (one of the best I've ever seen) and her second video, "More Magic" is just as good.
If you want to learn neck-reining and precision control,
this is the video for you.
But there is a lot more in this video too. Sandy does a good job of
explaining the natural progression of the training and how to advance the horse.
I think some of the most valuable demonstrations are the ones where Sandy explains teaching a horse "how to learn to learn".
Sandy always gives the horse a choice of how to respond. She makes the right choice easy for the horse and the wrong choice difficult (this is pure horse training at its very best).
It's really amazing to watch the expression on the horse's face as it tries to figure out the correct response to the new rein and leg cues.
My favorite demonstration is the one where Sandy teaches her horse to
go into a spin just from her leg cue… no reins. In real time, you see the horse make mistake after mistake until it figures it out. This is awesome stuff to know.
Here's a sample of what this new video covers:
Neck-reining 101. Steering and guiding exercises. Plus, the biggest mistakes people make when neck-reining their horse.
How to hold, position and manipulate the reins. You'll learn variations on using your hands and fingers to get the right response from your horse.
How to teach your horse precision steering using rollbacks, serpentines and squares.
You'll learn how to get your horse to bridle-up, lower his head, round his back and lope nice and straight.
How to improve your horse's spins with better cadence, balance and shoulder control.
Techniques for improving your horse's run-downs and stops using different fencing exercises.
A great method to help prevent your horse from anticipating the lead changes.
Sandy's theories about "reward" and "punishment" when training a horse.
Sandy's recommendations for bits, headstalls, reins and saddles. She also shares how she feeds her horses and what supplements she uses.
Sandy's grooming tips. She shares the secret of getting her horses to grow a long, thick, beautiful tail. Plus, several other great tips.
These are just a few of the things you will learn from this video. It is extremely informative and well done. I highly recommend it.
Important, please read: Be aware, "More Magic" is a continuation of the first video and is NOT meant to stand alone. This video is more advanced… taking you to the next level of training.
Now, by "more advance", I don't mean it's more complicated. No, the training techniques are simple and easy to understand. But, "More Magic" begins right where the first video left off and starts progressing from there.
So, if you don't have the first video, you will be kind of left in the dark, not aware of the previous training that was covered in the first video. If you don't have the first video, by all means get it. It's well worth it.
Run time: Approximately 1hour 45 minutes.
Price: $49 DVD Disc (OUT OF STOCK)






Phone Orders Call Toll-Free 1-800-811-4883