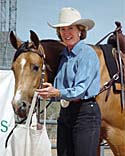 Sandy Collier's Bag of "Magic Tricks"
Quick fixes for training problems that plague reining, team penning & barrel racing horses
Once in a great while, a training video comes along that is so good
I feel absolutely compelled to tell people about it. This is
one of those times.
If you ride reiners, cow horses, barrel horses or team penning
horses, the information in this video will solve many of your toughest
training problems.
The title of the video is "Sandy Collier's Bag of Magic Tricks".
And in this video, the top reining and working cow horse trainer reaches
into her bag and pulls out the solutions to some of the most
common problems that plaque performance horses.
Do you want more "rate" and "body control" on your horse at high speed?
Want an easy, almost foolproof way of teaching your horse flying lead
changes?
Does your horse kick his butt out while spinning or pivot on the
wrong hind foot?
Do you wish your horse would listen better or be more willing to
please you?
Would you like your horse to have a better stop and lighter mouth?
If you answered yes to any of the above questions, this new video by
Sandy Collier may be just the ticket.
Quick Fixes for Many Training Problems
I hesitate using the words "quick fix" and "magic
tricks" to describe the great information found in this video. Both terms
suggest the information might be like "cheating" or not a "legitimate"
solution to the problem.
Let me assure you, Sandy's magic tricks are some of the
best training techniques you will ever use. And to tell you the truth,
it is almost like cheating because these methods work so fast. In
most cases, you'll see your horse make big improvements in just a ride
or two.
Here's a small sample of what this DVD covers:
Sandy's philosophy for making
performance training easy for the horse and any misbehavior
uncomfortable for him.
Three great methods for correcting a
horse that kicks his butt out when spinning or making tight circles.
Great info for reiners and barrel racers.
Sandy's theory of "physiological magnets".
I'm not going to give away the secret of this important training
factor here. However, I will tell you it is oftentimes the "root"
cause of many horse's problems.
How to teach your horse to be under
control and supple, even at high speed. "Must know" info for barrel
horses, team penners and working cow horses.
Several simple exercises that will
make doing flying lead changes almost effortless. (I kid you not.
These are great techniques that really work)
How to teach a horse to give to the
riders hands and slow down, collect up, round his back and get on
his hocks.
How to fix a horse that pivots on the
wrong hind foot.
The difference between "hollow" and
"stiff" sided horses and what to do to improve the problem.
How to put a better stop and back-up
on your horse.
Corrections and instant fixes for
missed leads.
You'll learn all this and much more from watching Sandy's new video.
Her explanations and demos of what to do are crystal clear. Everything
in her bag of tricks is very effective yet easy to learn and apply.
Seldom do I recommend a video this highly. However, I feel this is one video that will help every horse you have in the barn. You'll get great results and use it over and over. Get this video and put it to the test. You'll love it.
Price: $49 DVD Disc OUT OF STOCK






Phone Orders Call Toll-Free 1-800-811-4883