This is the page to purchase a new saddle.
Free Shipping within the continental U.S. Please read the instructions below carefully. If you have any problems or questions, call or email us.
To place an order, call Larry Trocha at (209) 642-2804. He may have the saddle you're interested in purchasing in stock or you may want to place a special order. We also need to discuss gullet width as well as seat size and other important factors.
These saddles sell fast so you need to grab one when they are available. If your seat size is not in stock, I can order the exact size you need.
FREE SHIPPING within the continental U.S.
Here are a few of the the features you should consider.
#1. The style of saddle you want… Reining, Cutting, Ranch Versatility or Barrel Racing.
#2. The seat size you want… padded or hard seat.
#3. The tooling pattern you want.
#4. The color you want. Light, medium or dark. (The photo of the barrel saddle is light color)
#5. The gullet width that fits your horse's back and shoulders.
#6. Your inseam length so the stirrup leathers are a good fit.
#7. The riggin you want. Standard dropped riggin or in-skirt.
#8. The swell height you want. High front or low front.
#9. Skirt style. Square, slightly rounded corners or more rounded corners.
#10. Saddle strings with slotted conchos or no saddle strings.
Saddle deposit for a special order $1000


Saddle payment for balance of special order $1600


Additional shipping (if needed) $50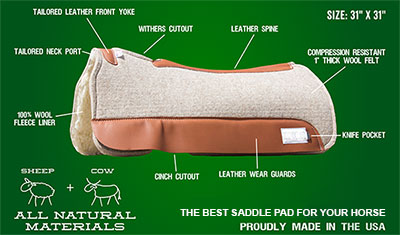 Felt Pad with Wool Fleece – $200
Free Shipping in the continental U.S.


NOTE: For shipping costs outside the continental U.S. email us at info@horsetrainingvideos.com