Lyn Anderson's Reined Cow Horse Video Series
Invaluable insight for training and showing reined or working cow horses
At Last… Working Cow Horse Training Videos That Detail How To Box, Go Down The Fence And Circle-Up A Cow.
For the last several years the "Working Cow Horse" and "Reined Cow Horse" classes have exploded in popularity. Seems like everybody wants to give it a try.
Many of my customers have asked me where they could get a good video on training and showing a working cow horse. Well, there just weren't any that I felt were good enough to recommend…Until now.
California trainer, Lyn Anderson has produced a set of four videos that I feel are exceptional. Lyn mainly competes in shows approved by the National Reined Cow Horse Association. She shows at the Snaffle Bit Futurity and also competes in the Hackamore and bridle classes.
She has made the finals more times than I can count. And for the last two years in a row, has won the Bridle Horse year-end championship. The lady really knows her stuff. In these videos, Lyn explains in detail how to ride, train and show a working cow horse. Below is a description of Lyn's videos, #1 through #4.
Introduction To Fence Work With Lyn Anderson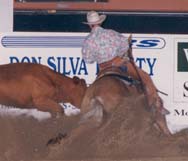 Learn the basics of getting your stock horse correctly started working a cow down the fence. Step by step instruction and examples on how to school a horse on cow work.
Lyn also covers the bits and equipment she uses. After watching this tape you'll see why Lyn is usually riding one of the top scoring fence horses at the Snaffle Bit Futurity every year. Her program of solid basics, good techniques and confidence building exercises will help you develop your own horse at home.
Showing Down the Fence With Lyn Anderson
Step by step instruction and examples on how to box a cow, do fence turns and circle up. Lyn also gives tips on what to do when things go wrong. Good advice for making a successful run.
Schooling the Cow Horse With Lyn Anderson
Lyn's students share their schooling sessions on cow work. Includes problem solving situations and training tips from Lyn. You'll see a wide variety of horses and riders working cattle down the fence. Experience levels range from rank beginners to advanced riders who have successful show careers. Learn as Lyn coaches each rider
and makes suggestions to improve their cow work.
Analyzing Fence Runs With Lyn Anderson
This tape give you some great examples of how to improve your show ring performance down the fence. You'll see a wide variety of mistakes that are commonly made by the rider as well as the horse. Learn how to gain working advantage by re-positioning your horse on the cow, improve your timing, and maintain control while going down the fence.
<