Horse Training DVDs & Online Horse Training Videos
by Larry Trocha
West Coast Horseman Magazine says:

"Larry Trocha's videos contain more "How To" instruction than any videos we've ever seen. Definitely the most detailed and easy to understand"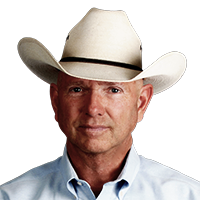 Hi – I'm Larry Trocha.
Over many years working with cutting, reining and working cow horses, I've developed a successful training program designed to teach horses to stop,
spin, rollback, change leads and work cattle.
I am happy to share this specialized knowledge with you through my series of
training videos.
My videos are different than most. Why? Because they are very detailed and show, step by step, how to thoroughly train the horse. I show how the training techniques are actually applied in real life schooling sessions.
In other words, you'll see horses making mistakes and how to correct those mistakes.
My videos also teach the rider how to use his hands, legs and seat to achieve top performance. The instruction is very thorough, yet easy to understand.
Want to know in what order to watch the videos? Read these horse training tips.
Important note:
In many of my videos, I show a variety of horses being trained. Most are your average, "middle of the road" kind of horse.

However, some of the horses in the demonstrations are much more difficult than the average horse and require training techniques that are more demanding.

I did this on purpose so viewers would have a broad perspective of horse training… ranging from the good-minded, willing horse to the strong-willed, uncooperative horse.
These DVD Packages Contain the Most Complete
and Detailed Horse Training Information.
They're the Best Deal Too!
---
Improve Your Horse's Performance
With These Horse Training DVDs