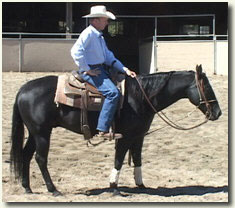 This "Headsetter" Helps Your Horse Learn Good Head Position
Easily teach your horse to work with a
low head and level top-line
Watch This Video To See How To Adjust And Use The HeadSetter
Many trainers use this piece of equipment to teach their horse good head position while stopping, rolling back, working cattle etc. Especially useful when the horse is in the process of learning to work in a curb bit.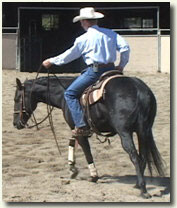 It's designed to help lower the horse's poll. When used properly, the Headsetter encourages the horse to work with a low head and level top-line.
Unlike a tie-down, this Headsetter works mainly on the horse's poll. A horse can comfortably carry his head in a "natural" position.
Made of 3/16″ hard-twist, nylon/poly rope with braided rawhide buttons.
The sliding nose-piece only comes into affect when the horse's nose is raised way too high.
Be aware, this is the ONLY headsetter on the market designed to work like this.
Cheap copy-cat headsetters are NOT made the same as this one.
This professional-quality headsetter comes with a fully adjustable, nylon tie-down strap with a stainless steel snap.
Note: Headsetter goes on the horse's head first, then the bridle goes on over it.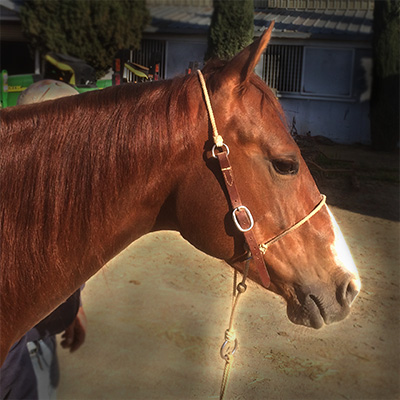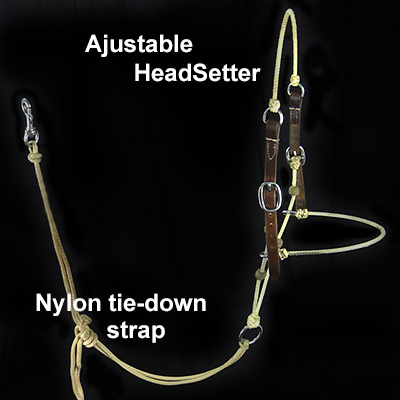 SOLD OUT
Headsetter (adjustable) with nylon tie-down strap $89.00





For the absolute best results, I recommend you use the training methods shown in this DVD: Teach Your Horse To Be Light & Supple.