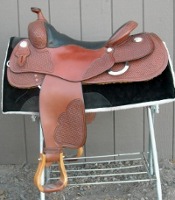 Reining, Cutting & Ranch Versatility Saddles
Designed by reining & cutting horse trainer, Larry Trocha
---
If you expect to do well riding a reining, cutting or ranch versatility horse…
You absolutely MUST have a saddle designed to help you ride in balance
and sit the big stop. Very few saddles do.
I do not "publicly" endose a specific brand of saddle or saddle maker. However, I'm happy to help you select a good saddle "privately".
Be aware though, you will not find the kind of saddle I recommend for less than $2400. They simply do not exist. So unless you plan on spending at least that amount, you will have to settle for a saddle that isn't designed right.
And no, you won't find a bargain on a used one either. The kind of saddles I'm talking about sell used for only a few hundred dollars less than a new one.
You're better off getting the new one.
Before you buy a saddle, here are some points to keep in mind.
What event do you want the saddle designed for… reining, cutting or ranch versatility?

No saddle tree fits "every" horse's back. So, does your horse need a "medium" or "wide" tree?

Do you want a "standard" or "in-skirt" riggin… full-double or 7/8ths?

Do not get a seat that's too small. Average sized riders will need a 16″ to 16 1/2″ seat.

Make sure the stirrup leathers adjust short enough to fit your leg length. Many do not.
One last point…
Can you comfortably afford to spend the $2400 minimum to get a good saddle?
If your answer is "yes", feel free to call me on the phone and I'll try to help you out.
If your answer is "no", there's no point calling because I won't be able to help you.
Sincerely,
Larry Trocha
www.HorseTrainingVideos.com
www.HorseTrainingTack.com