CowTrac II Mechanical Cow
Advanced Technology… Easy to Use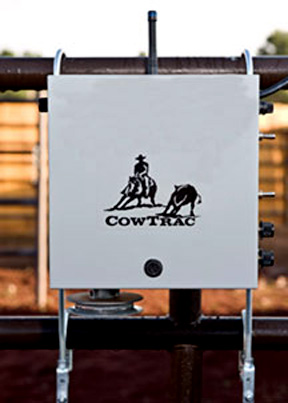 Compact, Powerful and Portable
The CowTrac II System comes in a compact, weather resistant NEMA4 steel
enclosure powder coated for durability. The system comes standard with enough Kevlar line for a 100 foot working area and quick mount pulley system. It weighs only 24 lbs and comes with a 1 year limited warranty.
The system comes standard with manual controls mounted on the side of the unit. Manual controls include Power Switch, Motor Polarity Switch, Adjustable Ramp (rate) control, Left/Right Switch and Speed Control. The built in adjustable ramp-down feature keeps the cow from starting and stopping abruptly and ensures a smooth transition from slow to fast and fast to slow.
Dual Speed Operation
There are two adjustable speed settings on the CowTrac II that can be accessed from either the remote or the manual switch. Pressing the remote in either direction will always start the movement at the speed set by the "slow" speed adjustment dial. Releasing and re-pressing the same button will speed up the movement based on the "fast" speed adjustment dial (double-click to jump to fast speed). Releasing and re-pressing the same button will return the system to the
slow speed. Changing directions will always return the system to the slow speed setting.
Remote Control
Each CowTrac system comes with a lightweight 2 button remote as well as manual direction control mounted on the enclosure. The built in ramp-down feature allows the rider to adjust the stopping period (coast to stop or immediate stop). The tactile switch allows you to feel the contact. It can be used on either hand or placed on the saddle horn. Flush button design eliminates unwanted operation. Adjustable Velcro
band and two (2) rechargeable batteries and wall/car charger included.
True Portability
All CowTrac systems operate on 120VAC/240VAC or directly from a 12 VDC source like a deep cycle battery. The universal mounting system (included) makes it easy to set up and take down in minutes.
Light Flexible Cow
Another innovation by CowTrac Systems is the unique design of the cow. It's 3D head and 2D body provide lifelike movement while being extremely light and weather resistant. The four (4) line "tail-drag" system keeps the tail from sliding past the head when the cow stops. The weighted nose and feet keep the cow stable.
Pricing… (Add shipping charges below. No free shipping)
Universal Mounting System – Included
Rechargeable Batteries and Charger – Included
Special Bonus
Shipping Charges
All other countries,
email for shipping charges.




Phone orders welcome