Australian horse trainer
& clinician, Clinton Anderson
Horse Training and Problem Solving Videos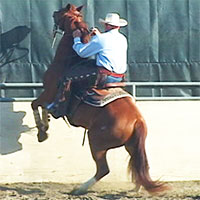 Featured Online Training Video
A top pro demonstrates how to fix horses
with bad behavior problems
Does your horse have any of these problems?
Rearing
Kicking
Biting
Barn sour or refuses to leave other horses
Runs over the top of you
Pushes you around and won't behave
Won't respond to cues
Bad manners and general lack of respect
Takes off with you for no reason
Balks and refuses to go forward
Spooks all the time
Out of control or no control at all
Stiff, heavy and hard in the mouth
Ignores leg pressure
Won't stop, turn or go where you want
Won't lope slow on a loose rein
If your horse has any of the problems listed above or is just difficult to train in general, then the following information may be just what you're looking for.
Every once in a while a set of training videos come along that are so exceptional that I have to tell people about them. This is one of those times.
Seldom do I ever recommend a video series as highly as I do this one. If you are experiencing problems with your horse, these videos will show you how to fix them.
The videos I'm talking about are the new ones produced by Australian horse trainer, Clinton Anderson.
I have to hand it to Clinton, he put a lot of thought and effort into making these videos the best and most complete guide to solving the problems that plague most horse owners.
Clinton promises his training methods will work on your horse and I have to agree. These are training techniques that will WORK on ANY horse.
Clinton also does an outstanding job of explaining what to do. He not only shows you what to do, he shows you how to do it. He also covers the mistakes the horse (and owner) are likely to make. Nothing is left to chance. Clinton explains it all.
Sorry, the Clinton Anderson videos are no longer available on this website.
Contact Clinton directly for availability.