Horse Training Clinics & Special Events
I'd like to thank everyone who attended my last two reining and cow work clinics.
Thanks to you, they were a huge success!
I plan on having more soon. Be sure you are on my email list to be notified of upcoming clinics. Signing up for any of the free courses on that page will get you on the email list.
If you are unable to come to a clinic, call me to schedule a private or group lesson (209) 642-2804.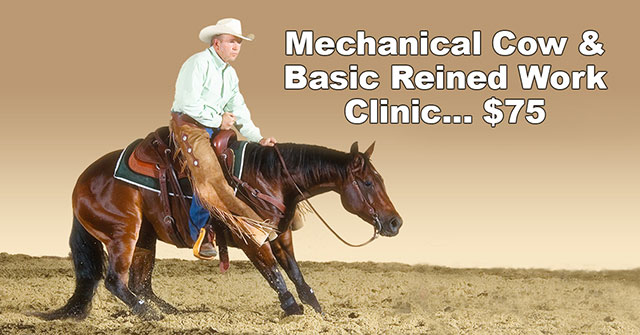 Mechanical Cow & Basic Reined Work Clinic – February 26th, 10 am to 2 pm
On Sunday, February 26th, we'll have a mechanical cow and reined work clinic to be held at the Sliding J Ranch in the covered arena.
Your instructor will be Larry Trocha. You'll be working on the mechanical cow (flag) as well as your horse's reined work. The clinic will start at 10AM sharp and will go to approximately 2PM.
To sign up for the clinic, scroll down and click the "Add To Cart" button.
Here are some of the things we'll be working on:
#1. Improving your horse's stops, turns, back-up, head position, and willingness. This will be the reined work section. Doesn't matter if your horse is green or advanced we'll work him accordingly.
#2. The rider's hands, legs, seat and understanding of how to apply the cues for better performance. This will apply to the reined work as well as the cow work. Novice riders as well as advanced riders.
#3. Positioning your horse and working the flag in relation to working a live cow. Your horse's form and style when working a cow. The rider's hands, legs and seat when working a cow.
Tuition is $75 and limited to only 6 riders.
All levels of riders are welcome… novice or advanced. Every rider will receive individual instruction which fits their goals and their horse's level of training.
Spectators are welcome… no charge!
Feel free to call for more information (209) 642-2804. If the clinic is full, you are welcome to reserve private lessons.
NOTE: If you reserve a spot in the clinic and can't make it, notify me ASAP. No refunds will be given. However, you will receive a private lesson on a day which is more convenient for you.
Larry Trocha Training Stable
Cell: (209) 642-2804
Sliding J Ranch
24846 N. Tully Road
Acampo, CA 95220
Email: Larry@HorseTrainingVideos.com